Why Shop at All Access Vapor

All Flavors
Why Shop At All Access Vapor
A growing number of people are shopping at All Access Vapor in Lutz, Florida and with good reason. The company offers a wide array of high quality vaping supplies at affordable prices. Plus, it offers the convenience of letting people shop online for the vaping products they want. The shop's friendly, knowledgeable staff is another reason it has continued to grow in popularity. People know they can get honest, well-researched answers to their vaping related questions and receive the guidance they need to enjoy a better experience when they vape.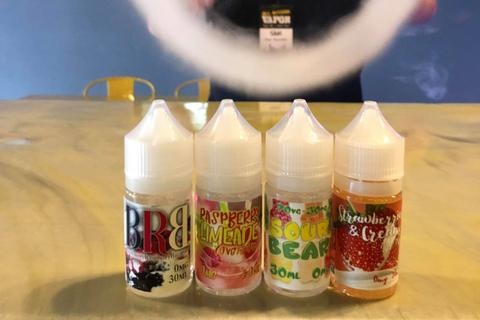 A Diverse Product Line
No matter what type of vaping supplies you need, you can find it at All Access. Their goal is to help every customers get exactly what they need to take their vaping experience to another level. They offer a diverse array of supplies and products for the vaping enthusiast. Whether its your first time vaping or you have been enjoying it for years, the store has everything you need to enjoy an excellent option to using tobacco products. From the moment you enter the store, you'll be pleasantly surprised at all they have to offer. Plus, the knowledgeable staff is always available to help you find anything you want.
Superior E-Liquid
The high quality e-liquid All Access Vapor produces and sells is a cut above the competition. Their premium e-liquid is made from the best domestic ingredients sourced from trustworthy, established suppliers. Each type e-liquid they produce is rigorously researched to ensure it has the perfect balance of flavors. Plus, they handle the entire production process in-house, so they can guarantee the strictest quality control of every step. The result of this attention to detail is the production of a diverse line of boldly flavored, satisfying e-liquid that customers love.
A Wide Variety Of Flavors
One thing that draws customers back to All Access Vapor time and again is the wide variety of excellent flavors they offer. Flavor blends like apricot, raspberry and lychee offer customers a delicious combination of sweet, tart and citrus that adds to their vaping pleasure. Ice Ice Baby, with its sharp, cool, menthol bite and bold, frosty, flavor, is one of All Access Vapor's flagship flavors and a customer favorite. Sweet & Tart is another big seller. Its combination of fruity sweetness and sour candy is perfectly balanced and leaves a wonderful taste in the user's mouth and a smile on their face. E-liquid flavors like the citrusy Gummy Bear and the refreshing Strawberry Watermelon Lemonade also offer a relaxing vape.
Affordable Prices
All Access Vapor's affordable prices draw more people to the store each day. By purchasing the ingredients in their e-liquid directly from trusted suppliers and manufacturing the products themselves, All Access is able to keep costs down. And they pass on these savings to their customer by offering some of the lowest prices in the industry. Why shop at All Access Vapor? Because you get the best for less and your money goes a lot further. While other shops charge high prices for inferior products, the team at All Access provides Florida residents and customers from around the world with excellent products at surprisingly low prices.
Shopping Convenience
When it comes to shopping convenience, All Access is in a class by itself. It offers consumers the option of visiting one of its retail locations where they can surround themselves in the delicious scents and sights they love, or they can shop at their top-rated online store. This gives vapers the freedom to shop for the products they want from the comfort and privacy of the home any time of the day or night. The products are then shipped directly to their door in discretely wrapped packages. Whether they buy online or in-store, customers have access to wide array of excellent vaping products at affordable prices.
Customer Satisfaction
The team at All One Vapor's main goal is satisfying their customers. That's what drives them to continually seek out the finest quality ingredients and work tirelessly to constantly develop new types of flavorful e-liquid. They aim to please their customers by providing e-liquid that consistently has rich, bold, balanced flavors and a smooth finish that gives users a refreshing feeling. The company guarantees all their products are of the highest quality and taste wonderful. Plus, they're priced to fit into any budget. They also offer the convenience of in-store or online shopping to enable customers to get the vaping products they want when they want them.
Why Shop at All Access Vapor
A growing number of people prefer puffing on vapor to smoking tobacco products. They also love the option of being able to browse their wide selection and buy online. If you want superior vapor products at affordable prices, visit one of All Access Vapor's stores
If you have any questions about our discounts or promotions please email: info@allaccessvapor.com and we will be happy to help!